991 Montague Expressway, Suite 106, Milpitas, CA 95035
(408) 263-2338



It is our pleasure to serve you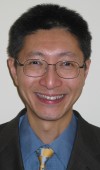 Dr. Edward Y. Chan received his Bachelor of Dental Surgery from the University of Hong Kong in 1987 and his Doctor of Dental Surgery with honors from the University of the Pacific in 1989. He received his Certificate in Endodontics and Masters of Science degree from the University of California, San Francisco in 2006.

Dr. Chan practiced general dentistry for fourteen years before specializing in endodontics. He was the Dental Director of North East Medical Services in San Francisco and was Clinical Instructor at the UOP Department of Restorative Dentistry. He is currently Associate Clinical Professor at UCSF teaching endodontics.

Dr. Chan is a member of the American Association of Endodontists, California State Association of Endodontists, American Dental Association, California Dental Association, Santa Clara County Dental Society, Southern Alameda County Dental Society, Omicron Kappa Upsilon National Dental Honorary Fraternity and Tau Kappa Omega Honor Society in Dentistry. Dr. Chan is fluent in Cantonese and Mandarin.

---
Testimonials

"Dearest Dr. Chan & Betty, Thank you so much for making my first root canal experience a very comfortable, painless and easy procedure. It was quite the opposite of what I had expected. You really put my 'nerves' at ease! I will surely recommend you to family and friends. Thank you!" A.C.
"Dr. Chan, Betty & Tracy, My hearty thanks for your kindness in treating an old man like me." P.V.
"Dr. Chan and his team were so friendly and professional and I am so appreciative that they looked into my concerns with urgency." ... "I would definitely recommend Dr. Chan for any root canal or procedures requiring an Endodontist.
" T.N. (Yelp review)
"A true professional who put me at ease with his work." ... "Dr. Chan and his entire team were so kind and professional and I wouldn't hesitate to recommend my family or friends to him." J.M. (Yelp review)

"Dr. Chan, Thank you for taking such great care of our patients..." Dr. L.L.
"Dr. Chan is one of the best at what he does -- not only is he a skilled and knowledgeable expert, he is an honest professional who truly values high-quality work... All my appointments with him have been stress-free... The staff are fantastic... If I were to recommend any endodontist, he'd be my #1 choice!
" C.F. (
Yelp review
)